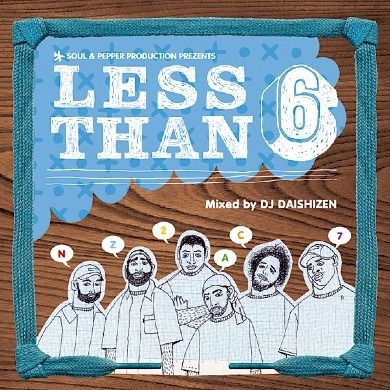 2006年/ SPCD-010(SOUL&PEPPER PRO)
『DISC 1』
INTRODUCTION
AFTER SCHOOL SPECIAL(BEN'S AFTER SCHOOL MIX)#/JURASSIC 5
CUSTOMER SERVICE+/JURASSIC 5
LINGUISTICS+/JURASSIC 5
LUNCHTIME*/CLICK THA SUPAH LATIN feat. JURASSIC 5
W.O.E IS ME/JURASSIC 5
LOLA*/ DJ NU-MARK
VERBAL GUNFIGHT+ /JURASSIC 5
THE INFLUENCE (SOME MINOR CHANGES REMIX)#/JURASSIC 5 feat. CHIEF ROCKER BUSY BEE
J5 EXERCISE (OPEN&CLOSE)+/JURASSIC 5
UNIBOMB*/AKIL&CHALI 2NA
CONCENTRATION*/ QUANNUM MCs meet JURASSIC 5
CONCRETE SCHOOLYARD/JURASSIC 5
GONNA FLY NOW (KAZOO)+/JURASSIC 5
CONCRETE&CLAY+/JURASSIC 5
CUMBIA DE LOS MUERTOS*/OZOMATLI
IF YOU ONLY KNEW/JURASSIC 5
THIN LINE(ALTERNATE MIX)#/JURASSIC 5 feat. NELLY FURTADO & MYA
HEY/JURASSIC 5
DOIN' SOMETHING REMIX*/SOULIVE feat. CHALI 2NA,AKIL
QUALITY CONTROL PART2/JURASSIC 5
ONE LESS DICK*/BLOWFLY
QUALITY CONTROL/JURASSIC 5 
?/?
QUALITY INTRO/JURASSIC 5
TODAY'S YOUR DAY(YEAH RIGHT EDIT)*/FATLIP feat. CHALI 2NA
ALPHABET AEROBICS*/BLACKALICIOUS
CHEMICAL CALISTHENICS*/BLACKALICIOUS feat. CUT CHEMIST
KEEP IN TIME SESSION+/CUT CHEMIST VS PAUL HUMPHREY
THIS IS,,,,,,,,THE MESSAGE FROM ???#/JURASSIC 5
NUMBER FIVE*/?
『DISC 2』
CHOTA*/ OZOMATLI
MPC SESSIONS PART 3+/THE MPC3 (DJ SHADOW/CUT CHEMIST/DJ NU-MARK)
FLOW+/JURASSIC 5
REACT!?*/?
A DAY AT THE RACES (BUNKY 'S EDIT)#/JURASSIC 5 feat. BIG DADDY KANE,PERCY P
BUNKY 'S PICK*/CUT CHEMIST
LESSON 6:THE LECTURE/CUT CHEMIST
THE RE-RETURN OF THE ORIGINAL ART-FORM+/MAJOR FORCE (REINTERPRETED BY CUT CHEMIST)
ACETATE PROPHETS/DJ NU-MARK & CUT CHEMIST
FREEDOM REMIX#/JURASSIC 5
DUCKY BOY+/JURASSIC 5
JOIN THE DOTS*/ROOTS MANUVA feat. CHALI 2NA
SUPER BOWL SUNDAE (PBW REMIX) +/OZOMATLI
SUPER BOWL SUNDAE*/OZOMATLI
IN THE FRESH/JURASSIC 5
ACTION SATISFACTION/JURASSIC 5
UNIFIED REBELUTION+/JURASSIC 5
WHO'S GONNA BE THE NEXT VICTIM+/U.N.I.T.Y COMMITTEE
LONG ROAD TO GLORY+/JURASSIC 5
エムシー/(DJ NU-MARK REMIX) */SDP
WANNA-BEEZ*/T-LOVE feat. CHALI 2NA
RUBBER TIRES+/DJ NU-MARK
SOMEBODY'S BEAT#/?
I AM SOMEBODY (INST)/JURASSIC 5
MONKEY BARS-BREAK#/JURASSIC 5
WAKE UP SHOW FREESTYLE#/JURASSIC 5
DO THAT THERE*/LYRICS BORN
S.N.T (LIVE AT PEACEPIPE)*/CUT CHEMIST & MILES TACKETT
EYE ON THE GOLD CHAIN (CUT CHEMIST REMIX INST) */UGLY DUCKLING
SELF DESTRUCTION*/THE STOP THE VIOLENCE MOVEMENT
SWING SET (THE SWWWING ERA! EDIT) #/DJ NU-MARK & CUT CHEMIST
#SPECIAL REMIX,EDIT
*J5名義以外の曲
+promo、12inch only or unreleased